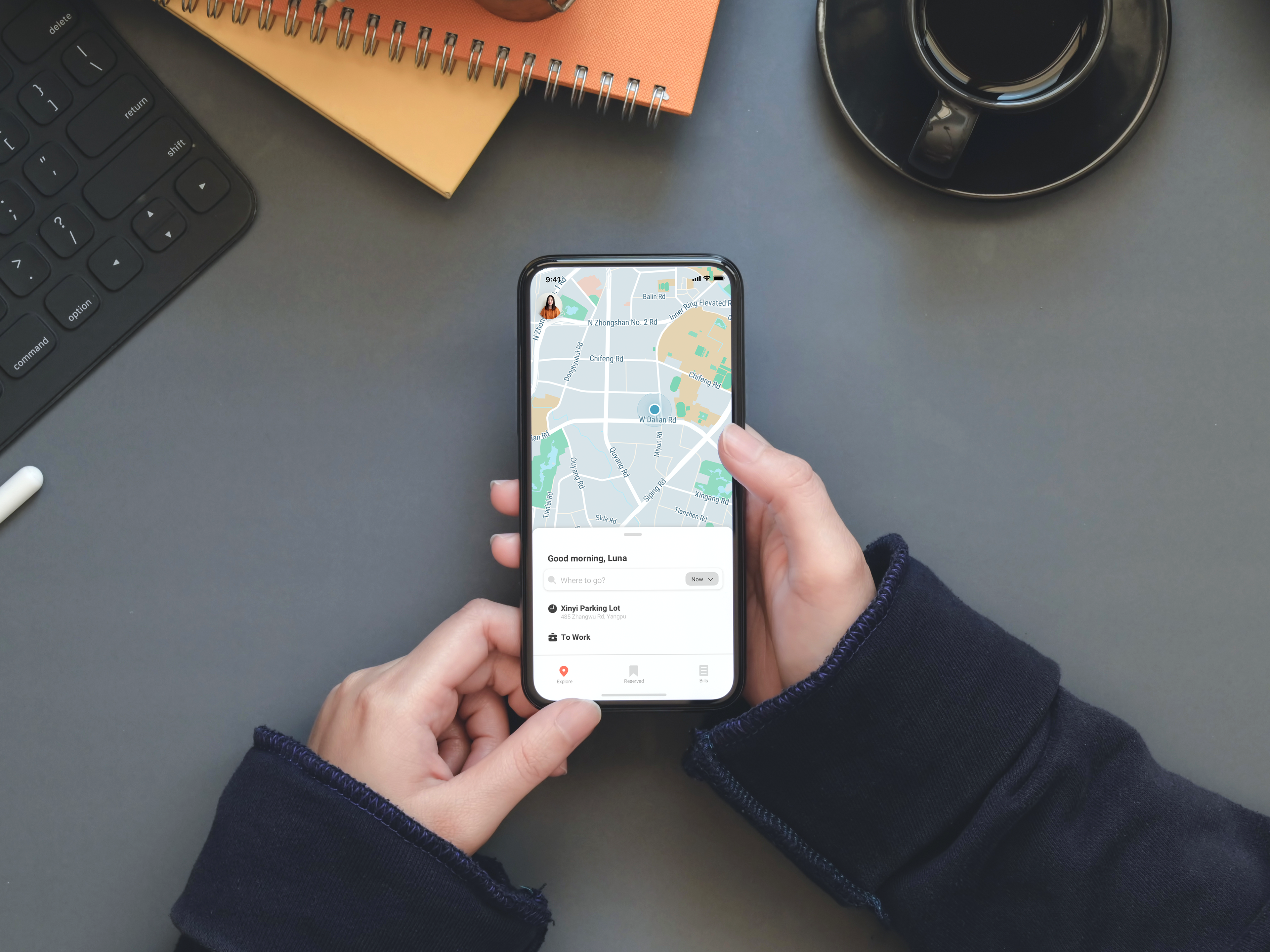 Overview
Parking difficulty is a common life problem faced by modern megacities. Residents either need to pay high parking fees or spend a lot of time and effort to find suitable parking spaces.
WePark is committed to finding a smart solution to help solve the parking problem in megacities. We activate vacant parking lots by providing users with off-peak parking information. Thus, the parking efficiency is improved and costs are reduced, which achieves the multi-win of users, parking lots, and platforms.


Why parking is so difficult in megacities?
Drivers, especially those living in large cities such as New York and Shanghai, spend nearly
4.5 days
a year just looking for parking spaces. 
According to the result of our questionnaires (Received: 132, Valid: 117), 75% of interviewees drive mainly for eating, going to work, and shopping. Even if the destination is fixed,
64%
of them still need to spend
10-30
minutes every single time for spots finding.

The highest parking fee during the day time for Chinese megacities like Guangzhou, Shanghai and Beijing is very expensive. People in Guangzhou might need to pay as high as ¥328 RMB per day for their parking, which equals to about $50 USD.
Parking pain has widespread impact – not only on drivers, but also on
cities, economy and environment
.

3. Low utilization of parking space
At the same time as parking difficulties, in some cities, parking lots have a vacancy rate of
92%
during the day time, but the government still needs to spend millions of dollars to build it.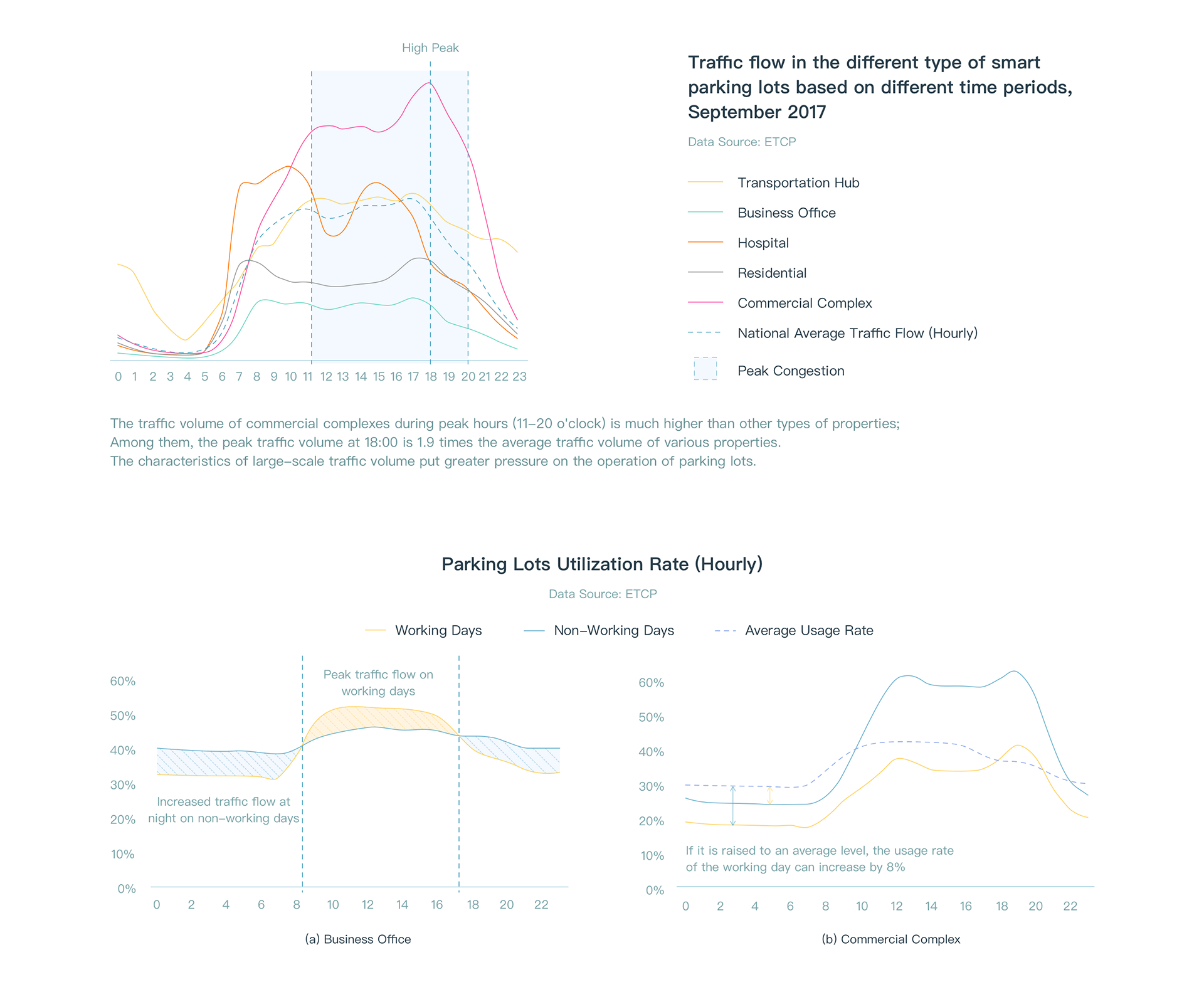 From the above, we came to a preliminary conclusion.
"In order to solve the parking problem in megacities, help users save time and money, it is first necessary to balance the use of various types of parking lots and activate low utilization."
But, how to do that?
In order to come up with an effective solution, we visited the local parking lot and surrounding areas in Shanghai.
In the area we visited, Tongye Tower is a business office building. Many people who work here commute by car, but the building does not provide enough parking spaces. And there are many POIs on the first floor of the building, including banks, post offices, express stations, shops and restaurants. People who are not familiar with there usually take a long time to find a parking space.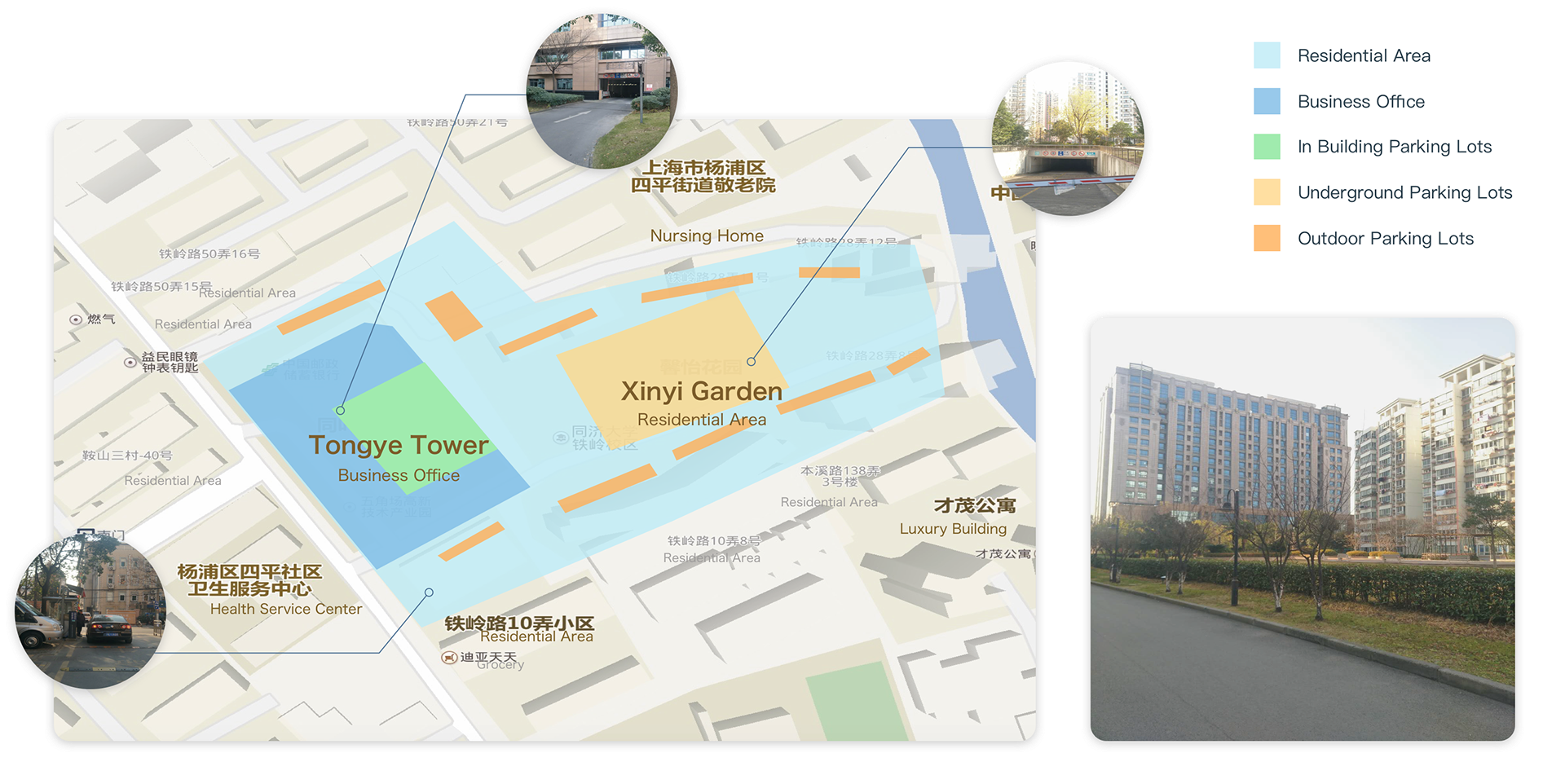 When we visited, I found that there is actually no shortage of parking spaces in this area. For example, there are outdoor and underground parking lots in the Xinyi Garden residential area, which is right behind Tongye Tower.
So why don't people park their cars in the nearby parking lots?

To answer this question, we interviewed the passing drivers, the security guard of Xinyi Garden, and business owners nearby.
An interesting fact is that as a parking service provider, parking lots are often neglected when designing parking solution.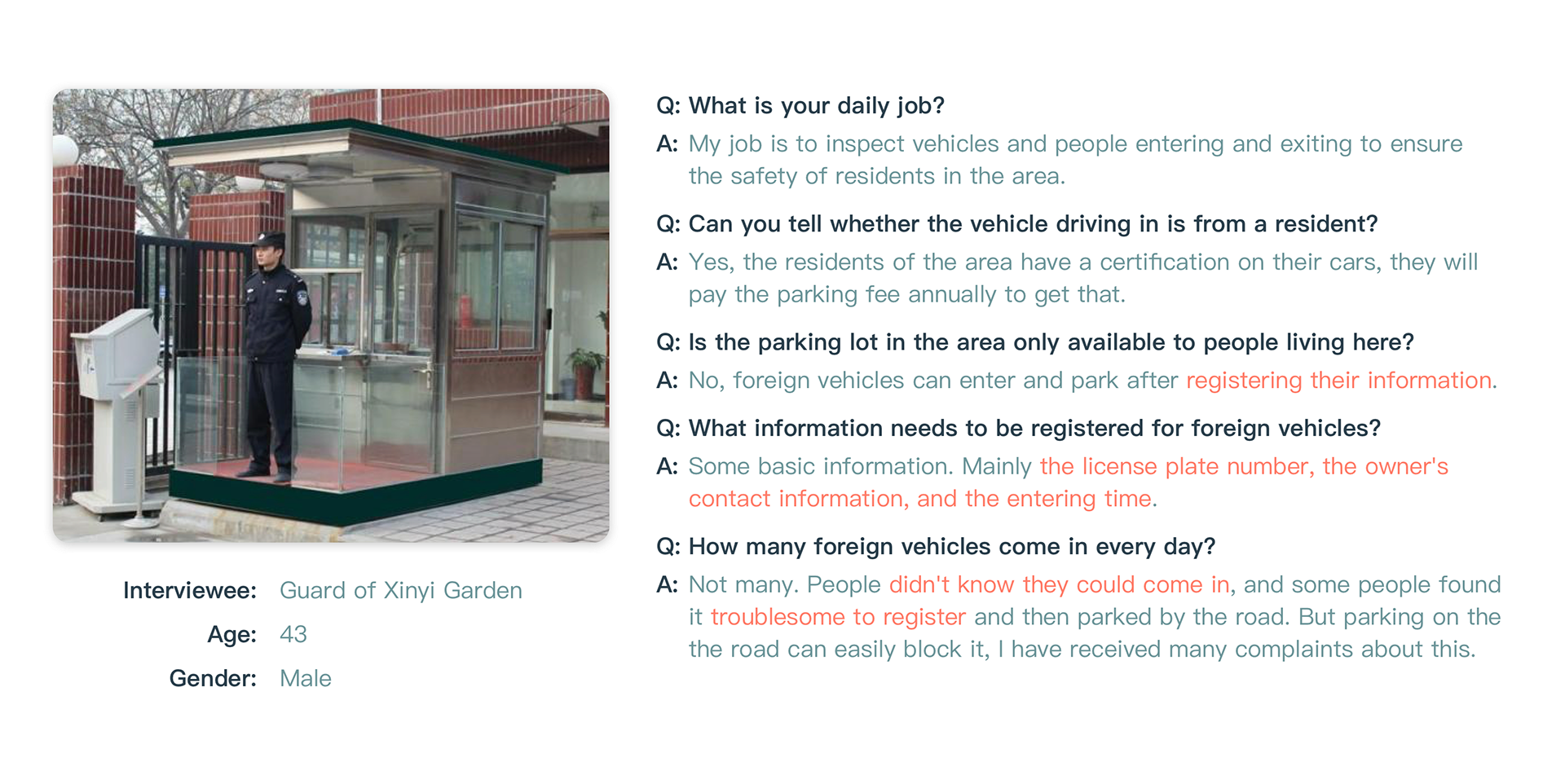 Not because there are no parking spaces, but resist for the complex procedures. This is not an isolated phenomenon. In follow-up interviews, this issue was also mentioned many times.
After completing all the interviews, we summarized the current situation of the three kinds of stakeholders.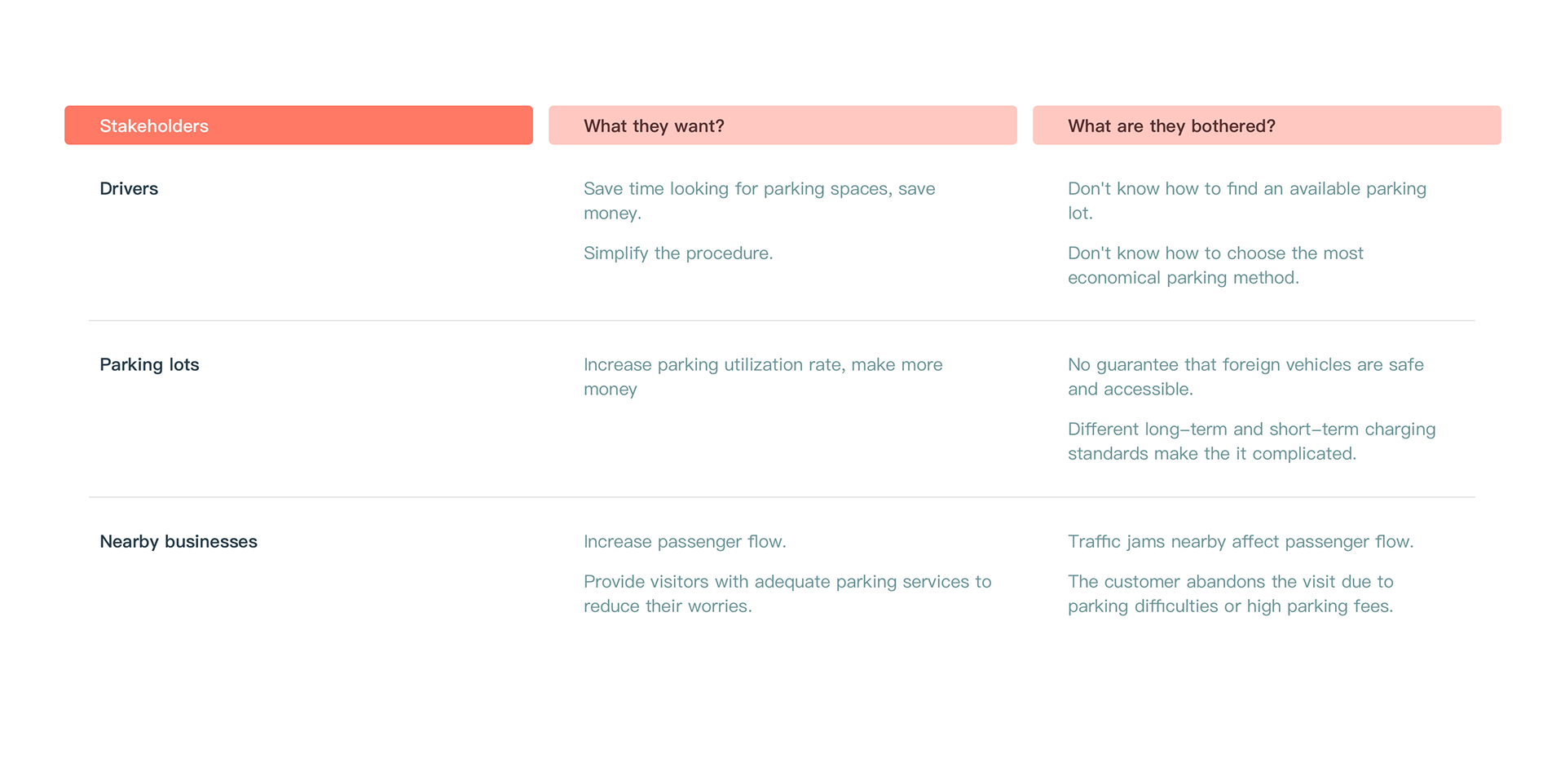 Let's have a pause and see what we got.
1. There are obvious differences in the utilization rate of different types of parking lots.
2. There is no obvious regional function division in megacities, most of the functional areas surround or contain each other.
3. People will acquiesce in some parking lots are prohibited foreign vehicles from entering, but this is not the fact.
4. Some parking lots require registration information, so people find it troublesome.
To increase the utilization rate, in the daytime, the parking lots of residential areas could be used for drivers who work near-by; at night, residents and could park their cars in the office area.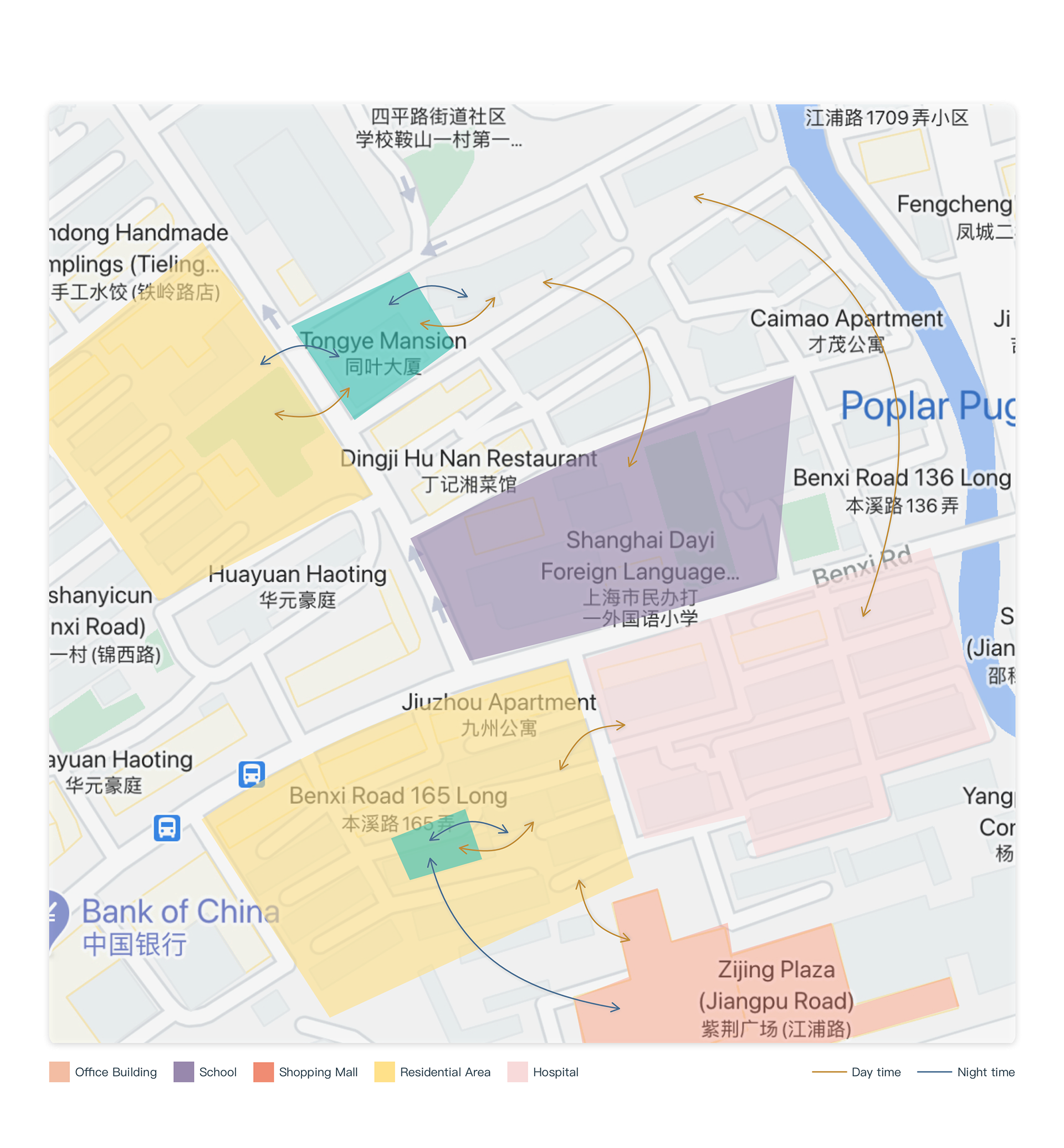 With this guideline, now, we can back to the classics.
We listed the pain points, from which we found our goals, from which we raised the challenges.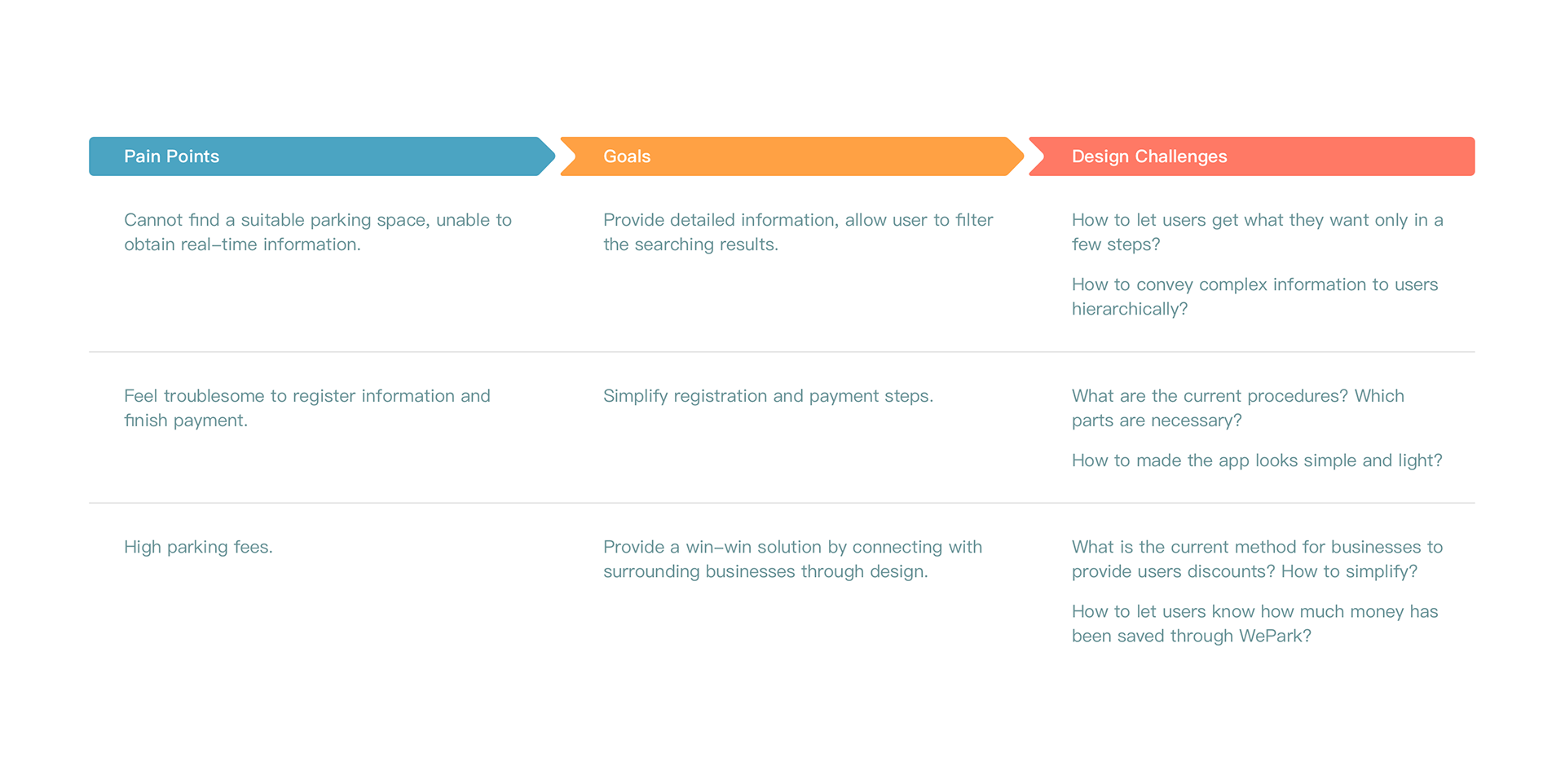 The goal is clarified, thus, things become simpler.

After several tries, tests, and iterations, we are more aware of what our users need.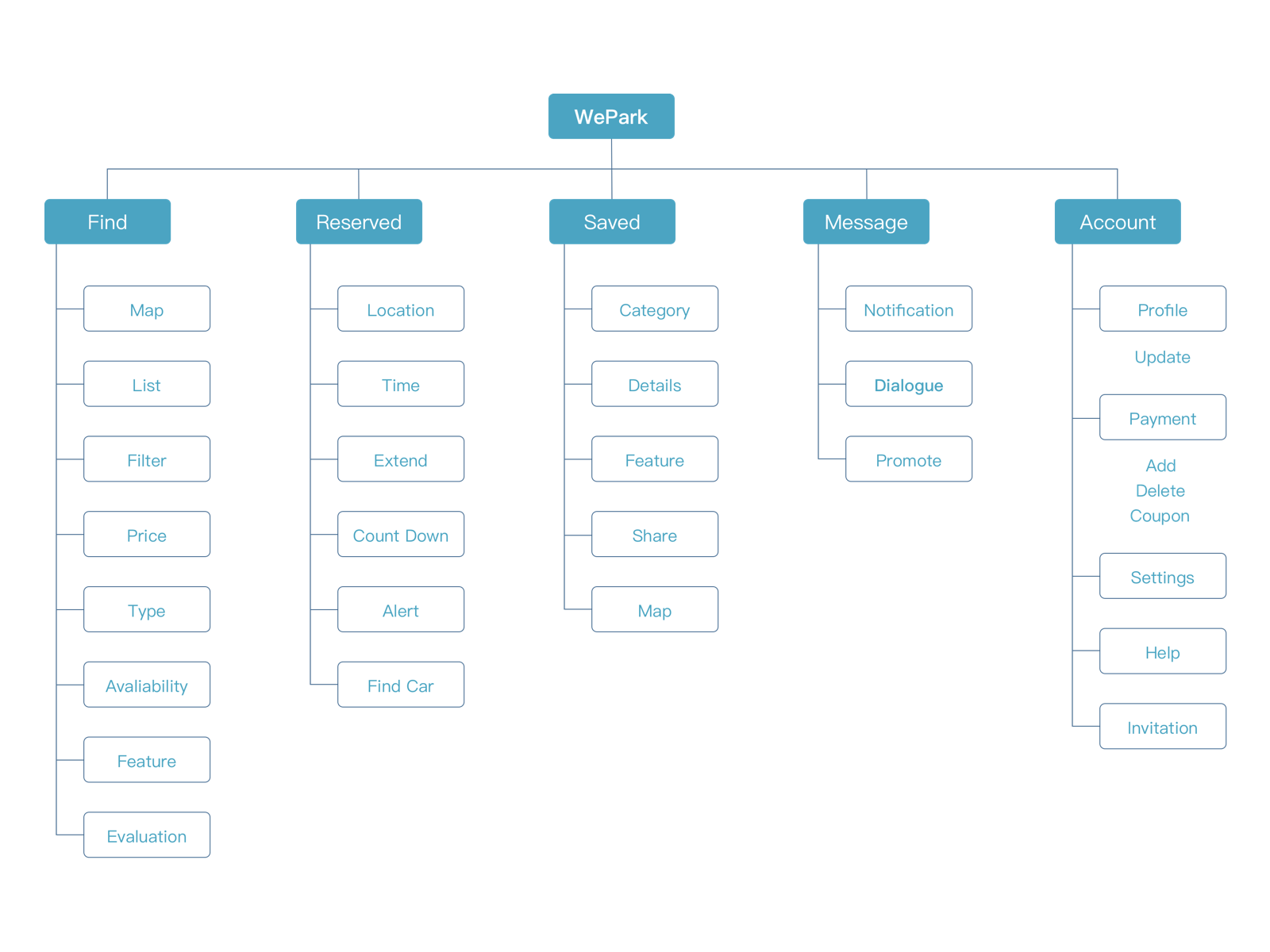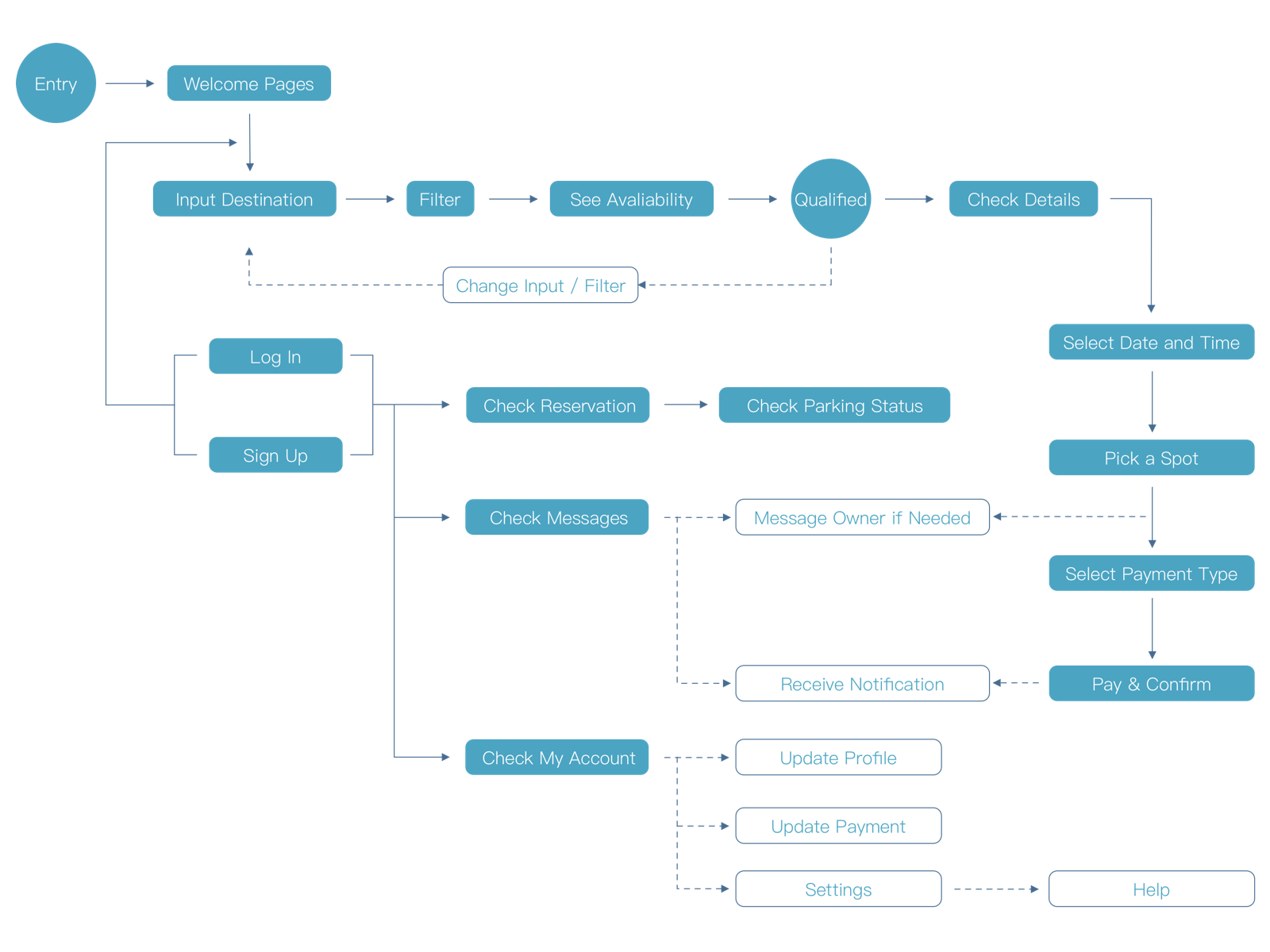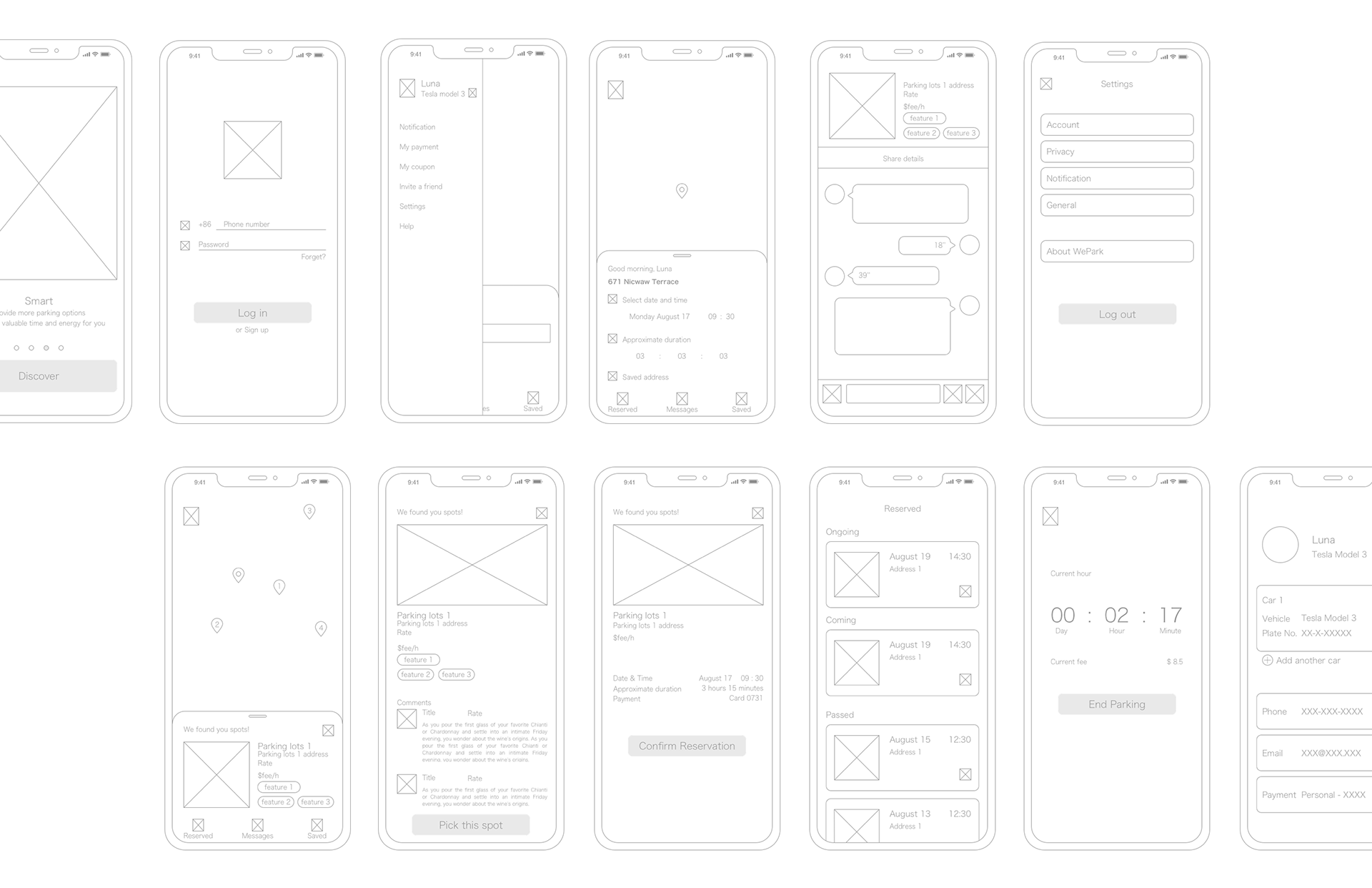 Finally, we came up with the solution!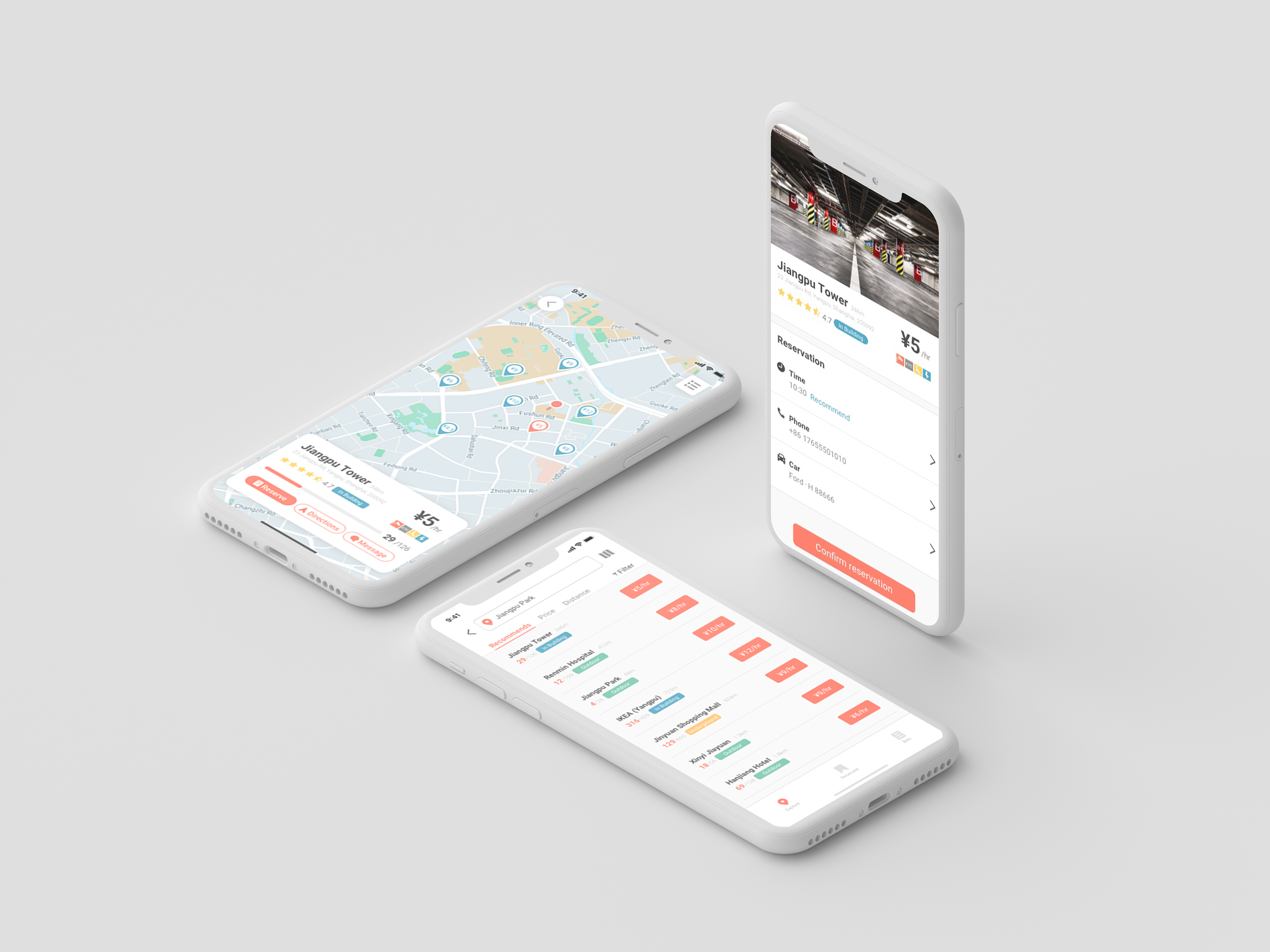 Clear and simple map
Maps are an important part of parking services. The visual effect of the map is simpler and straightforward through the choice and matching of colors.
At the same time, the low-relevance POI information is reduced to make the information hierarchy more clearly, so that users can intuitively obtain the main information.
Quick search, precise filtering
Through the simplification and integration of interactions, users can obtain the information they need with just a few steps. At the same time, it provides a wealth of filtering options to help users get the most matching search results.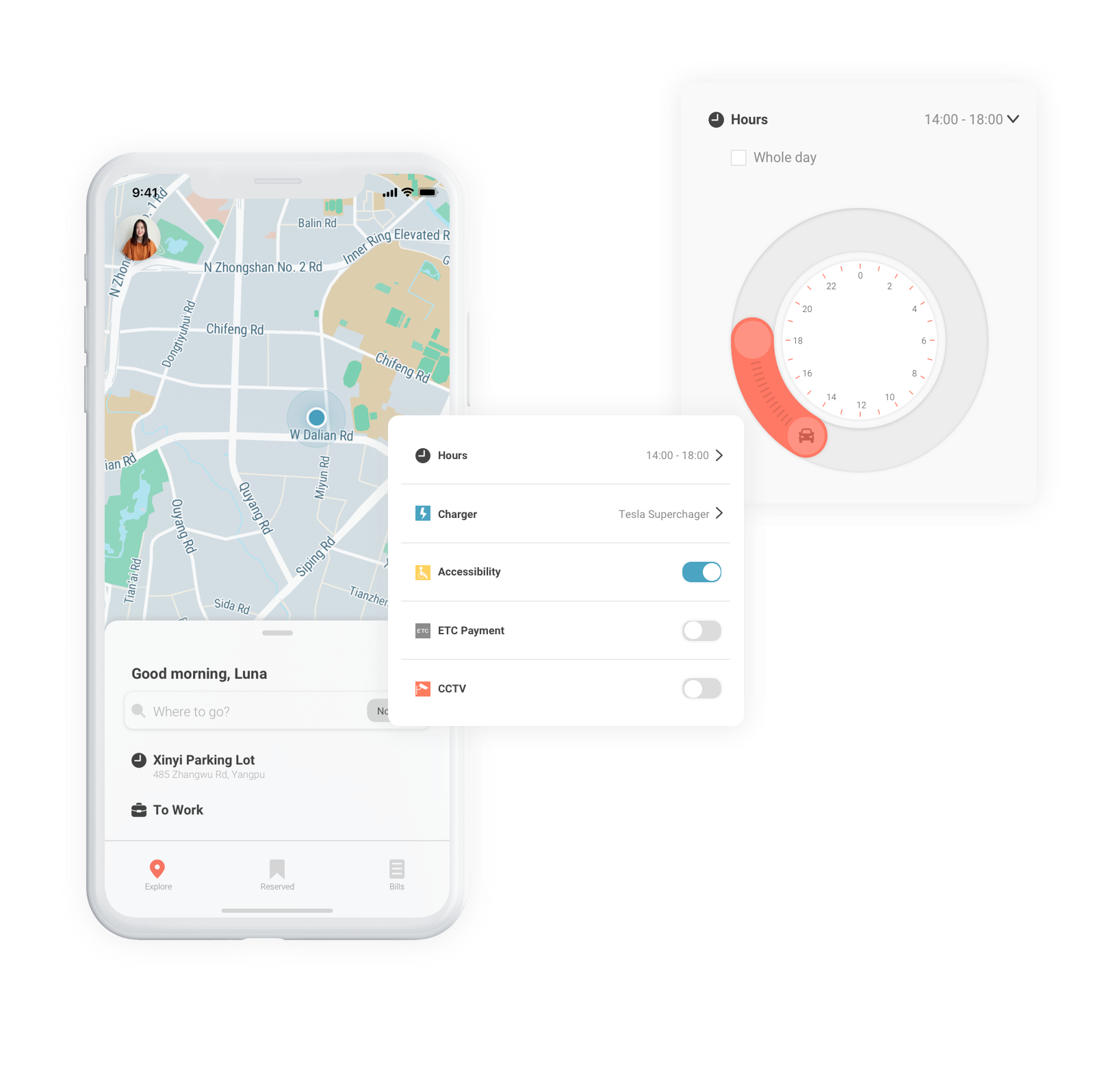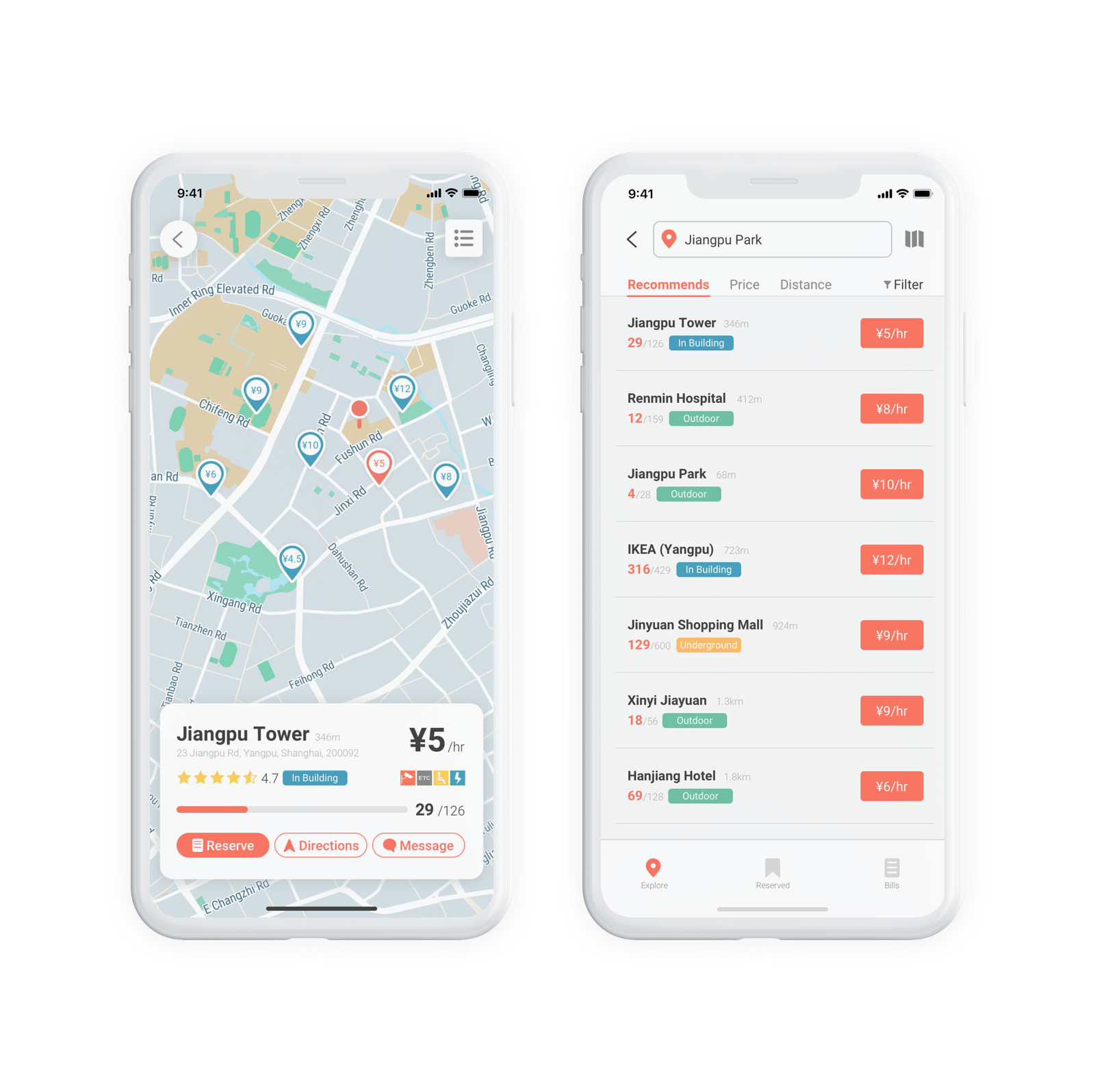 Switch between list and map view
Users can switch between the list and map views as needed. The list view makes it easier to compare parking fees, while the map view helps users better evaluate distances.
In WePark, users can get the basic information, contact methods and other users' reviews of the parking lot. This can facilitate users to grasp the overall situation of the parking lot.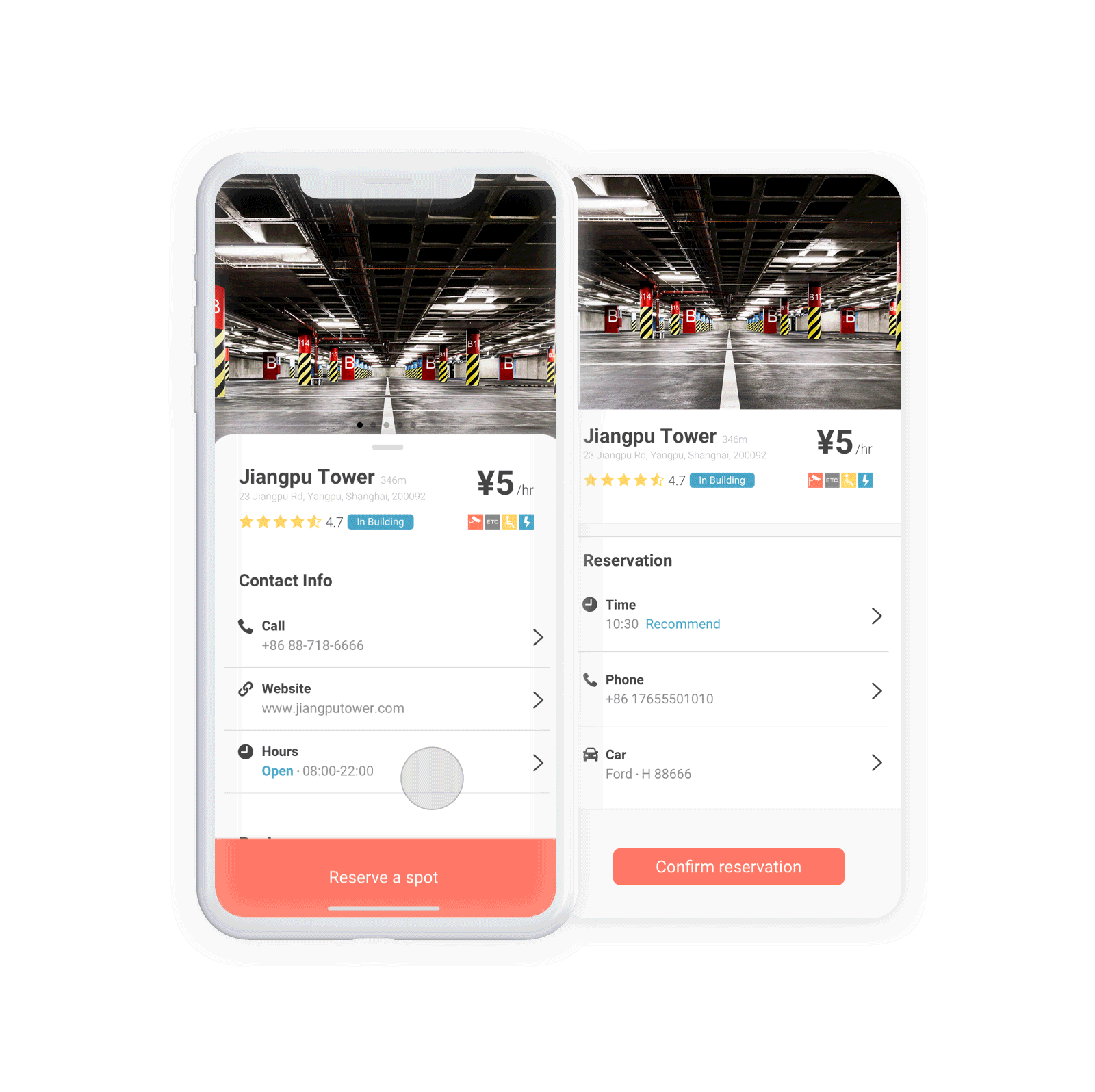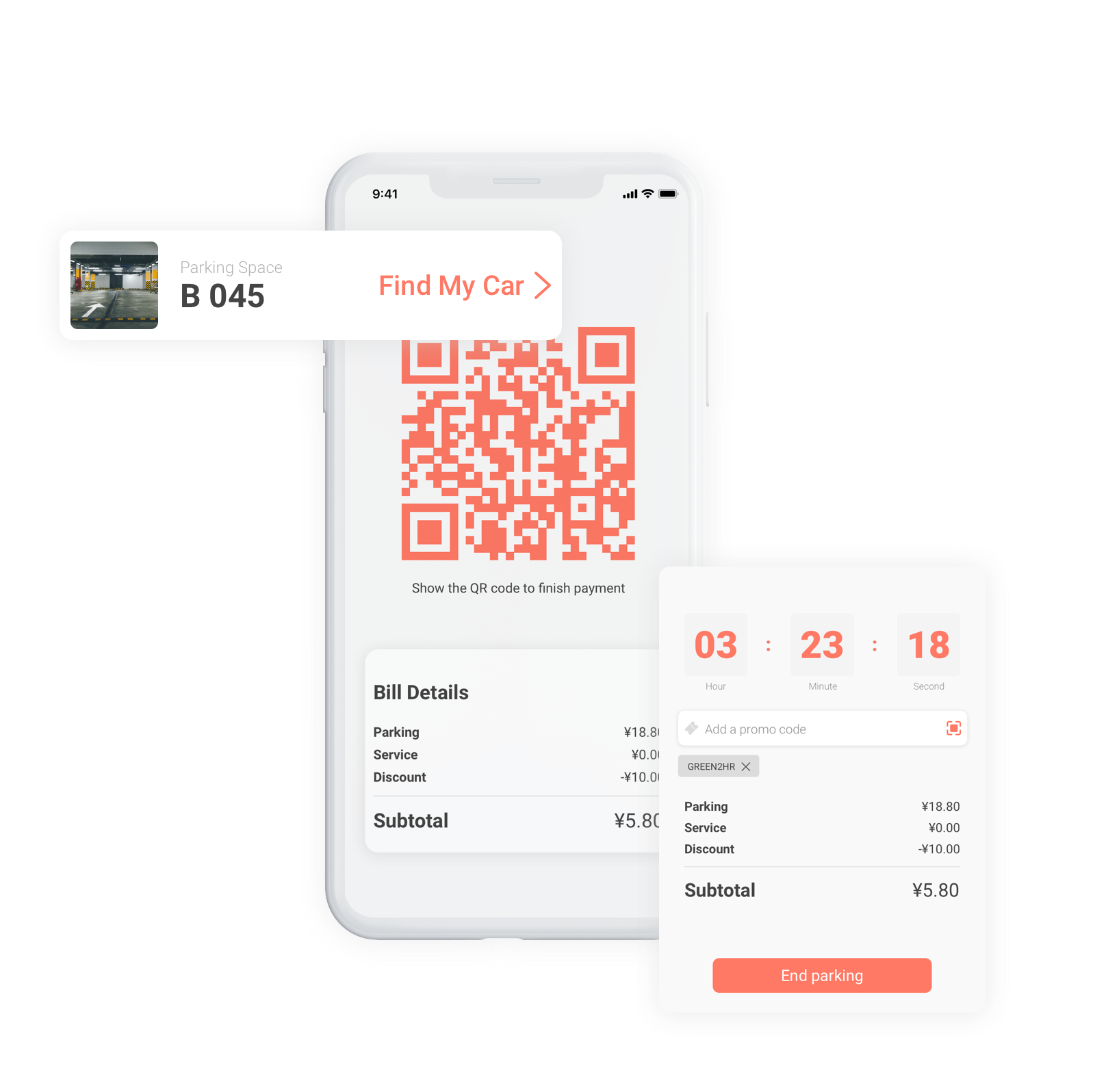 Easy park, easy pay
QR code is a main feature of WePark. Users will use it to enter the parking lot. By scan user's QR codes, parking lots can record their basic information so that drivers do not need to register anymore.
Simply check the bill details and show the QR code to the parking lot. It will be automatically paid to the management.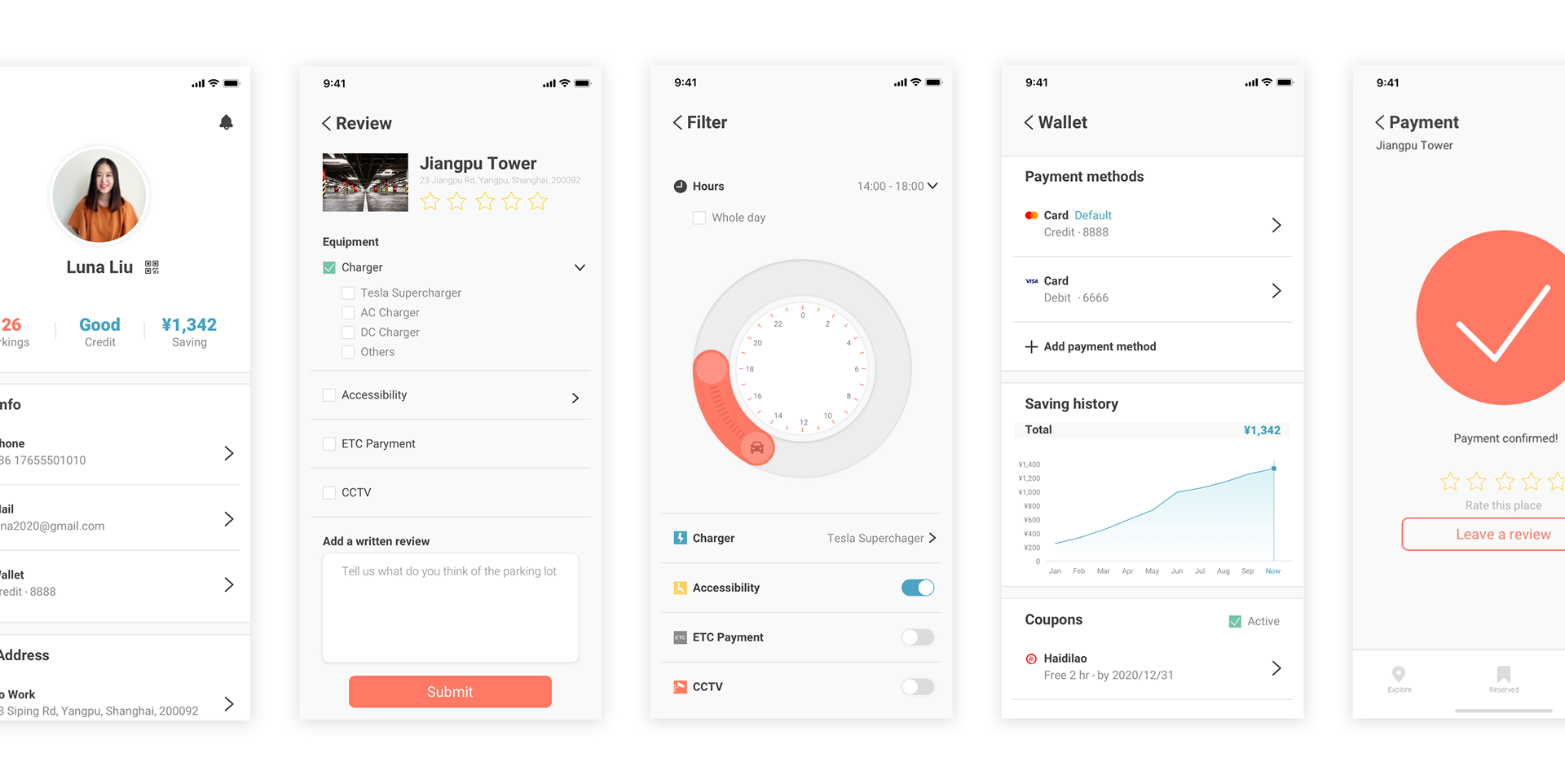 What did WePark solve?
For drivers -
WePark provide detailed and real-time parking information for drivers, to help them save the parking time; also update the parking discount information from parking lot or nearby businesses to help them save money.
For parking lot -
 Show users' review on the detail page, so that more users can know about the parking lot, help attract more flow to active the low utilization.
For nearby business
- By provide the parking discount to bring more customers, then improve their volume of business and build a 3D economy with local community.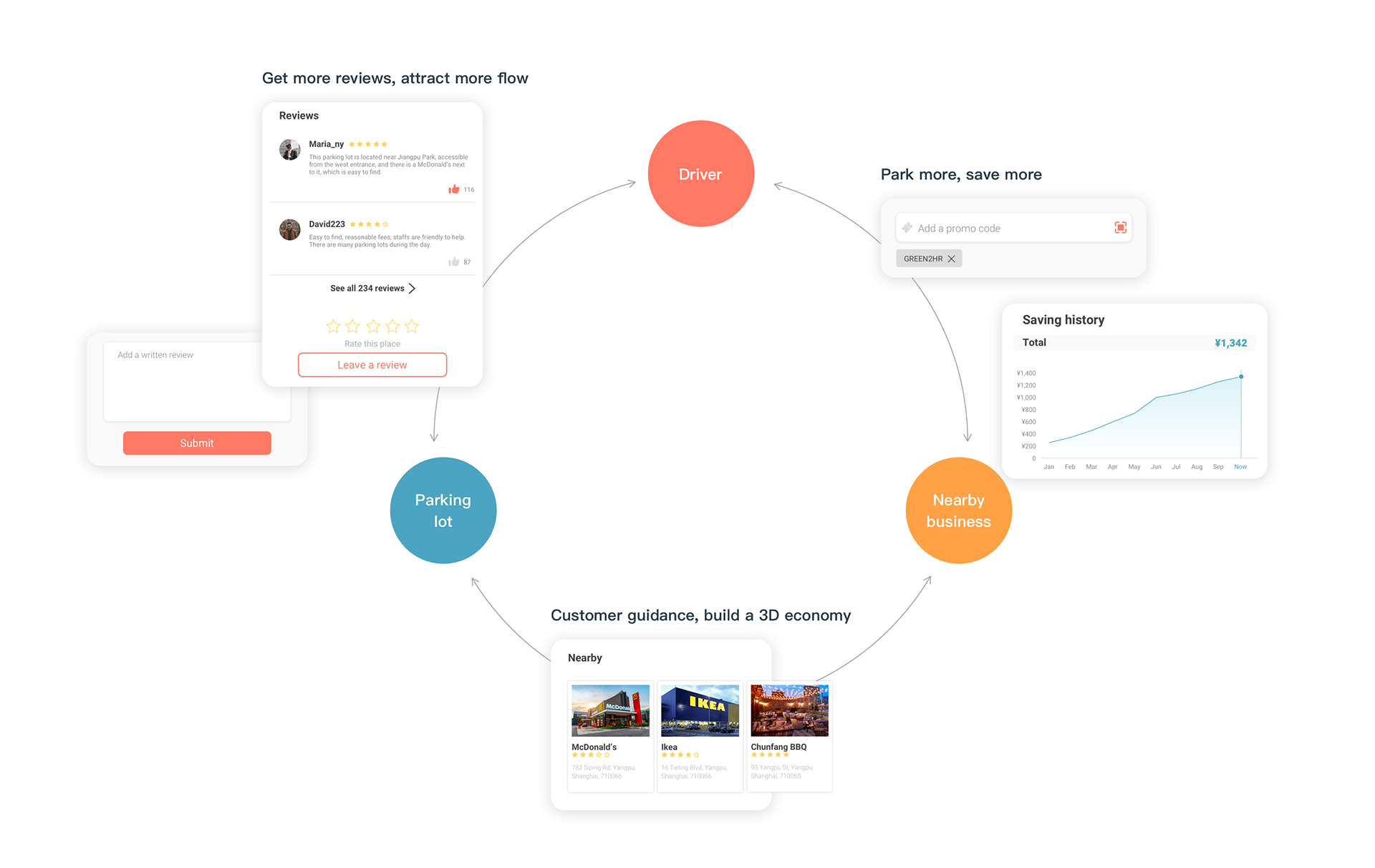 This is an end, but not all.
In this six-week project, I led the team to complete the design from 0 to 1. We make the product perfect by suppose, overthrowing, and iterating again and again. 
Our results are recognized by the users who participated in the test, and they also look forward to the day when they can actually use WePark.
When you think a problem cannot be solved, always look around.
When we focus on a problem, we are often limited by it. If we didn't get the opinions of the parking lots and nearby businesses, it might be difficult for us to get insights. So, always look around to see what you have overlooked, the answer might right be there.